FINDS TAKEN FOR WONDERS
PIERO ATCHUGARRY GALLERY
SOLO EXHIBITION
15 APRIL - 29 JULY 2023
Finds taken for wonders | 2023 | Installation View
Piero Atchugarry Gallery is pleased to announce Finds Taken For Wonders, the debut solo-exhibition in our Miami Survey of newly represented South African artist Chris Soal.

Finds Taken For Wonders brings together key concerns in the artist's sculptural practice, inviting viewers to reconsider their perceptual biases while challenging societal assumptions of value. Soal's works poetically contain a deep longing to expose the destructive relationship between humankind and nature by engaging the viewer's spatial awareness of their own body in relation to the monumental organic forms that shape these large-scale sculptures.

Through his use of discarded and mundane ephemera, Soal's work intuitively develops the familiar to the point of the uncanny. Using conventional mass-produced objects such as beer bottle tops and bamboo toothpicks, Soal highlights the stories embedded into these found materials by extracting them from their typical context. Beer bottle tops become writhing, twisting forms, which appear almost intestinal, but in reality serve as a reminder of the excesses available to us in our modern day. These elements of marginal discard become signifiers of the socio-political and economic excrescences of our society. And yet despite all they evoke, we cannot look away from the spiraling serpentine forms, we are spellbound and challenged through wonder, prompting the question: How do we see the world anew again?

The impressive scale of Soal's toothpick sculptures intentionally challenge viewers to see not just with the eyes, but to perceive with the body, inviting viewers to bodily consider their relation to the work. For instance, the initial soft fur or skin like appearance beckons one to move closer, allowing for an intimate
reading and intimidating closeness towards these biomorphic sculptures. It is through this phenomenological encounter that the viewer is made to contemplate the ecological ramifications of societal actions. Ultimately, by working with materials fated to be discarded, Soal's meticulously-built toothpick sculptures reference both nature and environmental decay pleading to be empathetically recognised.
"The delight in discovery is something that has pushed my work forward ever since I have started. It is through this moment of awe that the viewer is invited into a space of agency - for now the parameters of a prior way of seeing have been dismantled, and there lies an invitation to reassess what has been relegated to the peripheral."

- Chris Soal, Finds Taken For Wonder
Threshold, 2023
Bamboo and Birch Wood Toothpicks, held in Polyurethane Sealant on Ripstop Fabric
320 x 300 x 45 cm
Finds taken for wonders
| 2023 | Installation View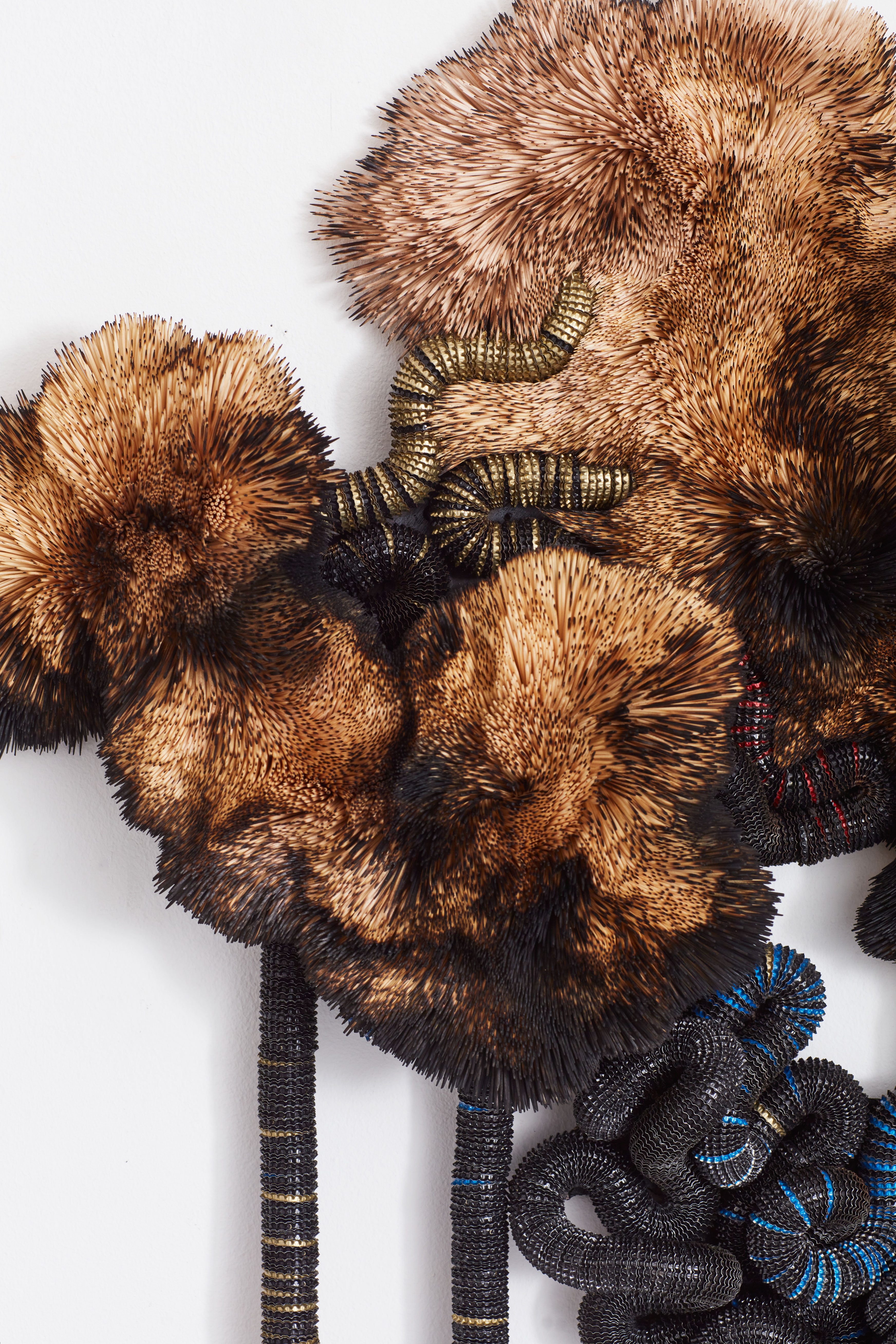 Reverie, 2023
Discarded Beer Bottle Caps threaded onto Electric Fencing Cable, held in Polyurethane Sealant on Board, with Burnt and Unburnt Bamboo and Birch Wood Toothpicks, held in Polyurethane Sealant on Board
198 x 118 x 14 cm
Holding out, 2023
Discarded Beer Bottle Caps threaded onto Electric Fencing Cable, held in Polyurethane Sealant on Board, Glass Fibre Reinforced Concrete with Used Motor Car Oil and Rebar and Flat Bar
127 x 126 x 12 cm
Ensemble, 2023
Bamboo and Birch Wood Toothpicks, held in Polyurethane Sealant on Board
255 x 228 x 33 cm