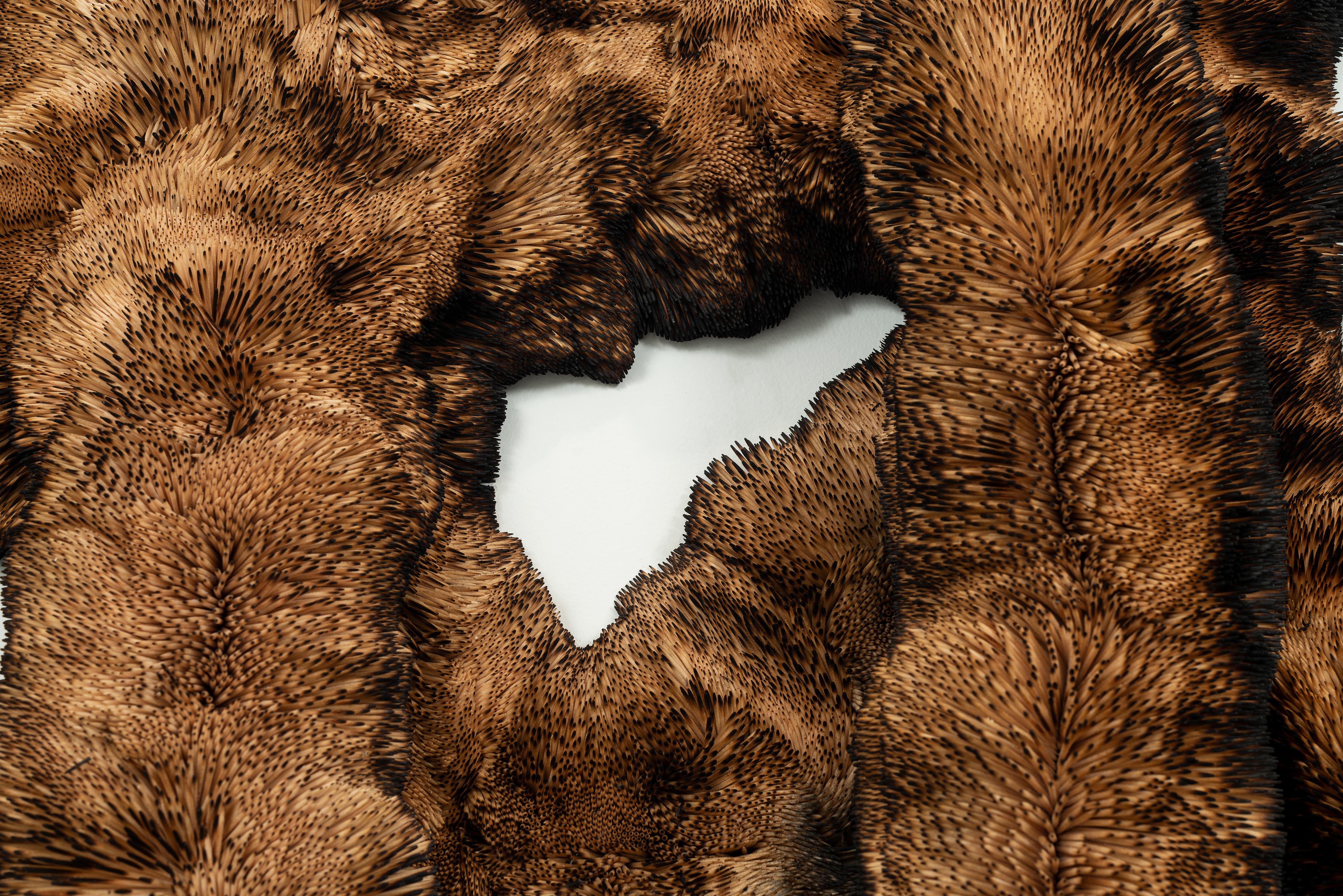 The Fourth Circle (The Demise of Frank Lucas), 2019
Burnt and unburnt toothpicks in polyurethanesealant on industrial fabric
45 x 190 x 30 cm
WHATIFTHEWORLD is pleased to present Chris Soal's Field of Vision, his first solo presentation with the gallery. Centralising his engagement with toothpicks as an artistic material, he reviews the value placed on these mass-produced, utilitarian objects – designed to be discarded – to make a commentary on the human condition.

On recalling his initial use of toothpicks in his practice, Soal indicates that this compulsion grew from, "…the relationship between the singular and the plural; in this case, it seemed to be the plural which made the work attractive, yet the singular which made it fascinating, engaging and important." The toothpicks transcend themselves when working together in mass, giving a soft and luscious textural appearance. He conceptualises this socio-politically, commenting on how both the collective and the individual gain significance through their relationship to one another. In analysing these works, we see value in both individualism and group identity, understanding the necessity of the part for the whole.

He began to develop this material thinking into an anthropomorphic space, positioning the toothpicks as signifiers of collective and individual relationships: between humans and between tools. The relationship between the body and the body-objects is formed in the familiarisation of these units; we intimately interact with toothpicks daily. The abject nature of these – their proximity to our mouths and the passing of them between hands – is what pushes these phenomenological forms into a poetic, relational realm. One feels drawn or compelled to touch these forms, but is also repelled by the abstracted nature of them, in as much as it is identifiable they are unfamiliar. Furthermore, the large scale of these sculptures allows for intimate reading and an intimidating closeness. There is a visceral acknowledgement of your body in space, and in relation to this animalistic form: its existence determines yours and visa versa.

Read as a commentary on ecological consciousness, one could obtain that through the scale of these artworks, Soal instructs the audience to acknowledge their own complicity in the destruction of our environment. "I began to contemplate [the works] as meditations on the relationship between humankind and nature," the artist explains. "With the works beginning to resemble fur skins, coats, and pelts, it became apparent to me that they were very much in a space of tension, signalling our dependence on nature, but simultaneously our domination of nature". These dripping, somatic bulges that protrude out of walls and spill onto floors are organic; they evoke comparisons to body cells or tree sap. Soal respects the integrity of the material accordingly, adding colour through alteration, in this case by burning the wood. One draws parallels between the charred birch tree toothpicks and scorched fynbos, a result of the rampant veldfires in South Africa.

This gesture of burning, and the erosion which ensues indicates an act of violence between bodies and between resources. Soal's own process of making and the handling of materials mimics this violence. Industrial fabric is stretched across wooden frames in the same way that animal skins would be when cleaned and worked. This push-pull process is as much a part of his practice as the product. Soal's interest lies in being fully present and engaged, and when he chooses to abandon this process: when is "completion"? At which stage of gluing does he give up controlling the movement of the toothpicks, and do they fall organically or with instruction? How far does replication go – is this chaotic or structured? "I grew to understand their formal and technical limitations and possibilities," says Soal, "…formally some of my attempts to push the work into new and intriguing organic forms has resulted in what appears to be tears, rips, wounds or scars in the artwork."
The sensitivity owed to these static, inflexible objects allows him to push materials to their extreme. This way of working strongly links to his previous body of work where he used discarded beer bottle caps. These collected caps were threaded in oppositional directions to create the illusion of movement, in the same way that these toothpicks fall and overlap to create depth through shadow and light. There is mobility in stagnancy, and the viewer's perspective of the work shifts according to their own position. Soal's interest in psychological studies of perception and "inattentive blindness" led him to "contemplating value and perception, and how the hierarchies of these values shape daily lived experience… in a very literal sense, there is something in these works that acknowledges the agency of the viewer and places emphasis on the power of human action to change the world."
Text by Lindsey Raymond
The Fourth Circle (The Demise of Frank Lucas), 2019
Burnt and unburnt toothpicks in polyurethanesealant on industrial fabric
45 x 190 x 30 cm
Lament (We Thought the Good Times Would Never End), 2019
Toothpicks in polyurethane sealant on industrial fabric
170 x 230 x 60 cm
Myself When I'm Real, 2019
Burnt and unburnt toothpicks in polyurethane sealant on industrial fabric, wooden frame
74 x 91,5 x 11 cm
The Little Moments that Give You Away, 2019
Toothpicks in polyurethane sealant on industrial fabric
98 x 142 x 20 cm
To See Me As I Am, 2019
Burnt and unburnt tooth picks in polyurethane sealant on industrial fabric, wooden frame
117 x 91 x 13 cm
Installation View, 2019
WHATIFTHEWORLD